FINAL NOTICE ON RECOVERY OF ALL OUTSTANDING DEBTS OWED THE AUTHORITY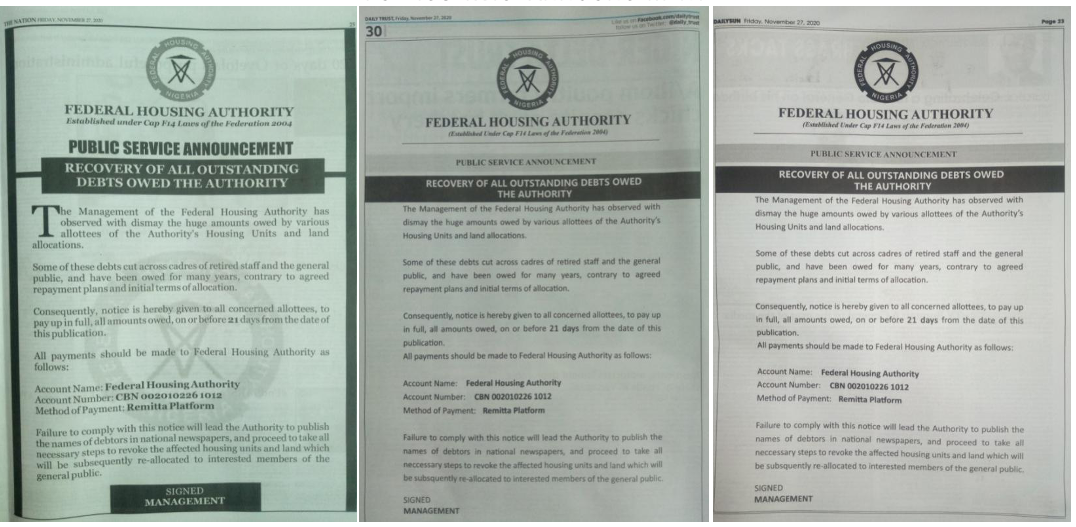 The Management of Federal Housing Authority hereby gives a final notice of repayment of all debts owed the Authority, 30 days from the date of this publication.
Management had on Friday, November 27th, 2020 announced its observation of the huge debts owed the Authority by various allottees of her Housing Units and Land allocations. Consequently 21 days deadline for full payment of the debts was issued, failing which will leave the Authority with the option of publishing the names of the debtors in National Newspapers, and also proceeding to take all necessary steps to revoke/recover the affected allocations.
However, after appeals from affected allottees and other stakeholders, and in consideration of the Covid-19 effect, Management decided to soften her stance, by giving an extension of four weeks as published in the Daily Sun, Daily Trust newspapers of Monday, February 15, 2021.
By this notice therefore, Management of Federal Housing Authority hereby gives a final notice for payment of all outstanding debts owed by allottees, and will go on to implement all the earlier published recovery measures, including publication of the names of affected allottees in National Dailies.
THIS NOTICE DOES NOT AFFECT ALLOTTEES WITH EXPIRED ALLOCATIONS.
Consequently, all affected allottees by this Notice must obtain payment clearance from Property Management Department before effecting REMITA payment.
Allottees in the Geo-political Zones are to visit the Authority's offices in the Zones to obtain clearance before effecting payment.
Signed:
Management