NEW FHA ANTI CORRUPTION AND TRANSPARENT UNIT LEADERSHIP (ACTU) INAUGURATED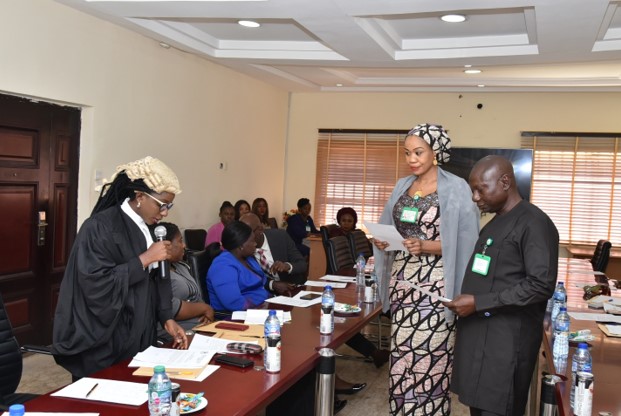 The Independent practices and other related offences Commission (ICPC), December 6, 2022, inaugurated the new leadership of the Authority's Anti-Corruption and Transparency Unit (ACTU).
In a brief Ceremony in the Authority's board room, Mr. Olayinka Ayegbayo (fsi), Head Corruption Monitoring and Evaluation Division, delivering the Commission's Chairman, Prof. Bolaji Owasanoye's goodwill message, expressed appreciation to the Management and staff of the Authority for organizing the event and the overall Interest shown in the issue of tackling corruption in the agency. Mr Olayinka made it clear in the message that ACTU is not setup as a parallel authority to the Management, but should rather work closely in build reputable Organizations. He also advocated for the support of Management in ensuring that the unit is given the enabling environment to function effectively.
Continuing the, Chairman's message he said, " I Congratulate you for being found worthy to serve in this capacity. I implore you to showcase high ethical standards and starling examples worthy of Emulation". The chairman went on to express optimism that the inauguration will strengthen further relationship between ICPC and FHA.
Earlier in his opening remarks, the Managing Director, Senator Gbenga Ashafa thanked ICPC for coming to inaugurate the Authority's ACTU new leadership. He assured ICPC that the new leadership of the unit will definitely leave a mark in their operations in the Organization.
According to the MD/CEO, "Going by the experiences and track record of the two new officers and the other members of the FHA ACTU Committee, I am very optimistic that today's inauguration will not only mark as a milestone in the operations of the unit, but will also enhance the Committee's effectiveness in the discharge of their duties''.
Senator Ashafa noted that the change in leadership of the ACTU unit in the Authority came as a result of the new Corporate Organogram that witnessed some strategic placements and repositioning of staff for maximum effectiveness.The Change saw Samuel Omole, General Manager, (Servicom and ACTU) as the new unit head and Ebere Alalibo, Deputy General Manager (Servicom and ACTU) as the deputy.
In his acceptance speech, the new ACTU Head, Sam Omole promised to ensure a seamless working relationship with the entire ACTU Committee members to achieve effective and efficient operations in the department, in line with the extant provisions/operational guidelines of ACTU in MDAS.
According to him, "We will come up with proactive ideas and strategies to facilitate effective service delivery, and curb tendencies of corrupt practices in the Authority's operations".
Mr. Sam Omole replaces Mr. Humphery Ukeh who is now General Manager Standards Performance and Evaluation.